"It's Nothing Personal"
, the new album from the Boston, Massachusetts-based hardcore/metal band
BURY YOUR DEAD
, sold around 3,250 copies in the United States in its first week of release, according to
Nielsen SoundScan
. (Note: Internet/digital sales **ARE** included in the
SoundScan
totals.) The CD landed at position No. 2 on the Top New Artist Albums (Heatseekers) chart, which lists the best-selling albums by new and developing artists, defined as those who have never appeared in the Top 100 of The Billboard 200.
"It's Nothing Personal"
was released on May 26 via
Victory Records
.
The track listing for the CD is as follows:
01.
Hurting Not Helping
02.
Without You
03.
Broken Body
04.
The Great Demonizer
05.
Dead End Lovesong
06.
Swan Song
07.
Lakota
08.
The Forgotten
09.
Lion's Den
10.
Legacy of Ashes
11.
Closed Eyes
12.
Enough
Guitarist
Brendan "Slim" MacDonald
previously stated about the group's new material: "I say it every time we go into the studio: 'This is the best thing ever that we have ever written ever and it's meaningful because and ever and stuff,' but let's be honest — [2008] for us hasn't been anything short of a shitty coin toss. Between the awesome tours and heading overseas twice, there were a fair amount of remedial bullshit to have to get over, and I promise you will hear about most of it somehow or another on the record.
"This record has it all. You will be able to circle pit in your bedroom and make out with your girlfriend/boyfriend to it! Best of both worlds, I know. I mean, if you're into that kind of thing, then you'll like it, I guess."
BURY YOUR DEAD
's self-titled album was released in March 2008 via
Victory Records
.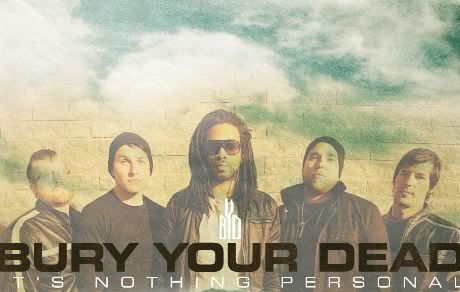 Labels:
News